Boosting Health and Wellness with Promotional Products
---
By Dean Schwartz (SWAG Master): Promoting health and wellness has become a top priority for many businesses, and for good reason. Not only is it the right thing to do for employees, customers, and the community, but it also makes good business sense.
A healthy workforce is more productive, engaged, and less likely to miss work. A healthy customer base is more loyal and more likely to recommend your brand to others. However, traditional marketing methods can be costly and not always effective. This is where promotional products come in.
Promotional products are a cost-effective way to promote health and wellness while also increasing brand awareness and customer engagement. They can be used in a variety of ways, from corporate wellness programs to health and wellness events.
Giving employees branded promotional products that promote healthy lifestyles (such as customized yoga mat at a yoga class or include a pedometer in a company-wide step challenge) offer a variety of benefits to your company. Keep scrolling below for examples or click the button for our full presentation.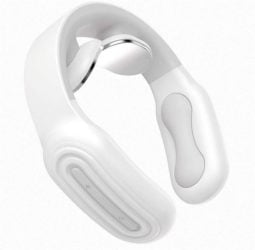 FITBOLT Portable and Wireless Neck Massager
The New and Comfortable FITBOLT Neck Massager is portable and the ultimate massaging device. With wireless technology, it is easy to carry around and use while multitasking on other activities. Unwind and relax with the neck massager that will comfort and relax your muscles with stimulation for the whole body! Solve the issue to your neck pain!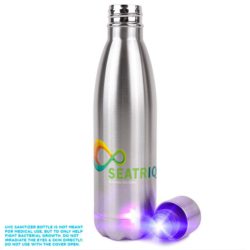 HD-200 Self-Sanitizing 17oz Water Bottle With UV-C Light Cap
The HD-200 Stainless steel water bottle not only keeps liquids hot or cold but sanitizes with a powerful UV-C LED light. This innovative water bottle features a USB rechargeable LED light that sanitizes with a push of a button. Promote health and wellness with the HD-200 UV-C sanitizing water bottle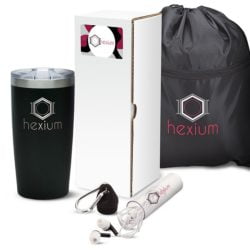 Wholesome 3-Piece Wellness Gift Set
The Wholesome 3-Piece Wellness Gift Set is every athlete's dream. Use the 20 oz. double wall, stainless steel tumbler to keep yourself hydrated during your work-outs and on your car rides home. You can keep your atheltic gear in the contrast-colored sport bag that has a front-zippered pocket and a drawstring closure that doubles as backpack straps. It's light, convenient and comfortable to carry as you head to the gym or to the park. While you work out, listen to your favorite music with the ear.
As always, if you don't see something you're looking for – just hit the button below and we'll find it for you. 
Promotional products can be an effective and cost-effective way to promote health and wellness while also increasing brand awareness and customer engagement. By choosing the right products, personalizing them, integrating them into events and programs, and measuring the impact, you can maximize the impact of your campaign. Click the button below to start planning your next health and wellness promotional campaign today!